Our History
Benevolent and Protective Order of Elks
Livonia Lodge No. 2246
On May 18, 1961, a letter was sent from Spencer E. Puthoff, Elk Member, Plymouth Lodge #1530, to the Chairman, New Lodge Committee, Michigan Elks Association, requesting consideration of a new Livonia Lodge. In June 1961, permission was granted by Past Grand Exalted Ruler, Edward J. McCormick to proceed with formation of a Lodge in Livonia, Michigan.
On August 21, 1961 a letter was sent to approximately 330 local residents, who were already members of various Elk lodges throughout the area, to discuss forming a new Elks Lodge in Livonia. After several meetings, a request for a B.P.O. Elks Charter was submitted and granted by the Grand Lodge of the Order.
On Sunday, December 10, 1961 the new Livonia Elks Lodge No. 2246 was instituted with 153 charter members (only nine remain as Livonia Lodge members today). The ceremony was initiated by Officers of Plymouth Lodge No. 1780 at the Wayne-Ford Civic League Hall, 1661 North Wayne Road just south of Ford Road.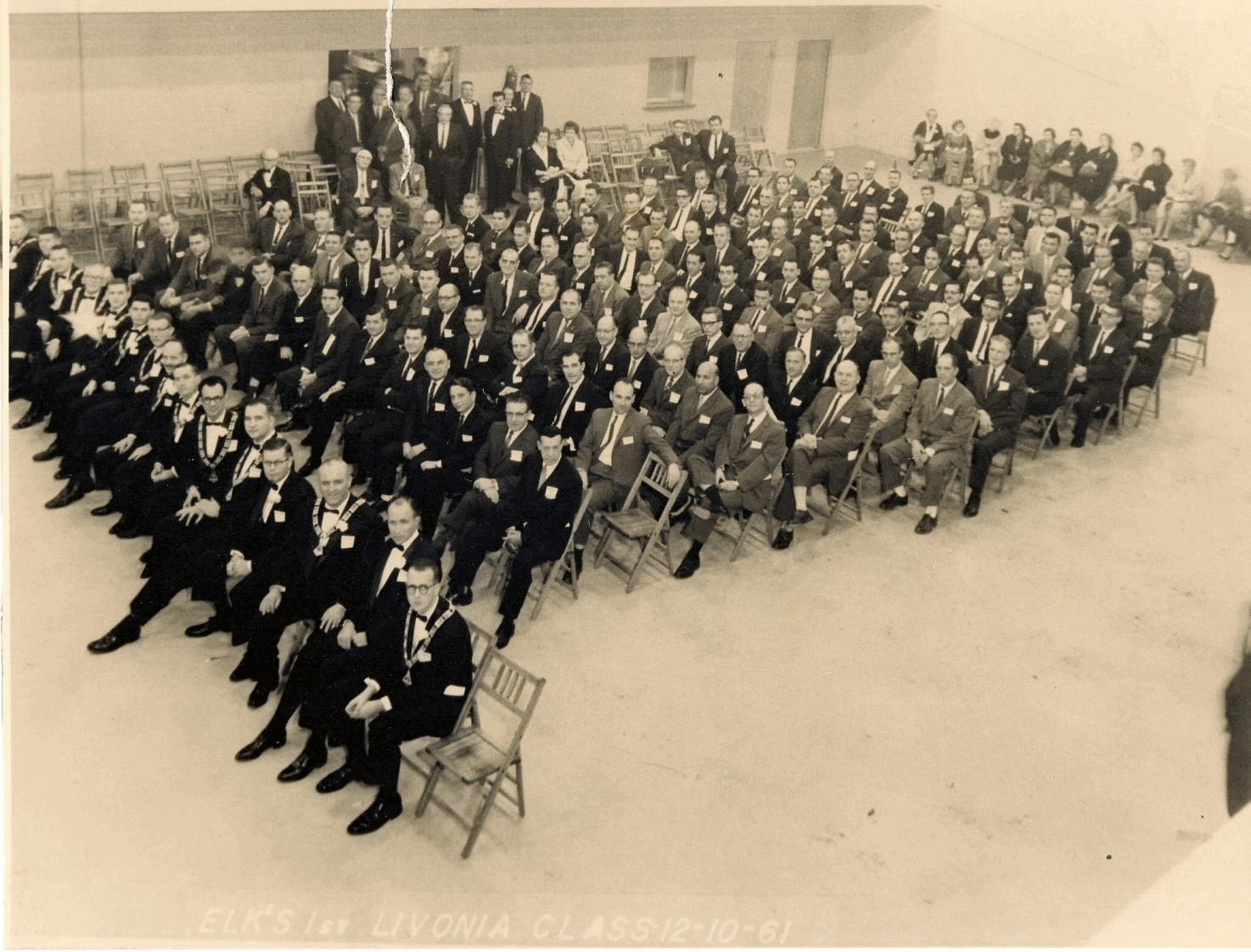 Our first official lodge meeting was held on January 3, 1962 at Danny's Suburban Chop House, 30325 Six Mile Road, west of Middlebelt (later known as Vargo's). A regular meeting schedule was established for the 2nd and 4th Tuesday of the month. By-Laws were also recommended to the members and accepted soon thereafter.
The task of finding a more suitable meeting place was of utmost importance and, in February 1962, we re-located to 33825 Plymouth Road, west of Farmington Road. A formal Dedication and Grand Opening to celebrate our new facilities was held on March 17, 1962.
Our first bar was a wood board supported by beer cases (later, a permanent bar was built.) Many dinner dances were held, however, all the food was cooked in electric roasters by the women of our Lodge because we did not have a kitchen.
For the complete history, please download history.pdf